Occupy, the Arab Spring, and New Social Movements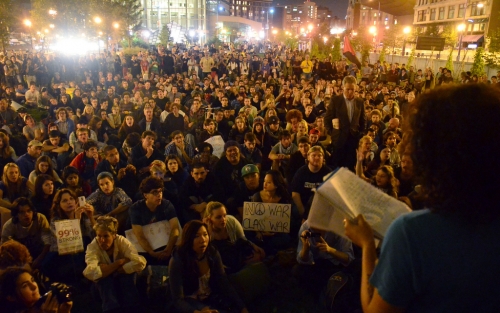 We're in debt. We're afraid of losing our jobs. Or we're afraid of never finding a job. Or just afraid: of strangers, of terror, of the police. Even so, this past year saw the uprising of many courageous new social movements.
This is not a course. The movements of 2011 didn't spring out of vanguard political parties, nor will this course or its textbook gather those disparate actual practices into a theory. The book we'll read is a way of thinking with these new social movements. It's a pamphlet called "Declaration," by Michael Hardt and Antonio Negri.
"Declaration" is short (just under 100 pages) and it's cheap (99 cents on Amazon; free elsewhere on the Internet). Let's read it and spend a few evenings talking about changing the world.
Materials: Declaration, by Michael Hardt and Antonio Negri, available as an e-book on Amazon or free pdf on various web sites.
Style: Reading group; facilitated discussion.
Time: Classes will meet for a few Sunday evenings from 6:30pm – 8:00pm.
Place: A living room near Porter Square
Facilitator: Cole Anders
Cost: Free
Schedule: We will likely begin on May 20, 2012. Full schedule soon!
To Enroll:

Use the form below (please include an email, phone number, or both).
Or, email me: coleanders18 (at) gmail (dot) com
Or, add a note to the enrollment page.